The Audio Publishers Association released the
results of their 2008 consumer survey
, and the results are pretty exciting:
28% of adults responding to survey listened to an audiobook last year.
53% of teens have listened to an audiobook.
52% of people aged 18-24 listen to audiobooks.
63% of children listen to audiobooks.
I'm a little skeptical of the reach of this survey, but as a long time audiobook fan (I depend on them for my commute!) I believe they are getting more popular...especially since you can now easily download them to portable players.
What are some of your favorite recent listens?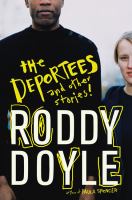 I've really enjoyed these recordings for teens:
The Astonishing Adventures of Fanboy and Goth Girl
by Barry Lyga
The Disreputable History of Frankie Landau-Banks
by E. Lockhart
Terrier: Beka Cooper
by Tamora Pierce
And for adults:
Animal, Vegetable, Miracle: A Year of Food Life
by Barbara Kingsolver
The Deportees & Other Stories
by Roddy Doyle
The Devil in the White City : Murder, Magic, and Madness at the Fair that Changed America
by Erik Larson